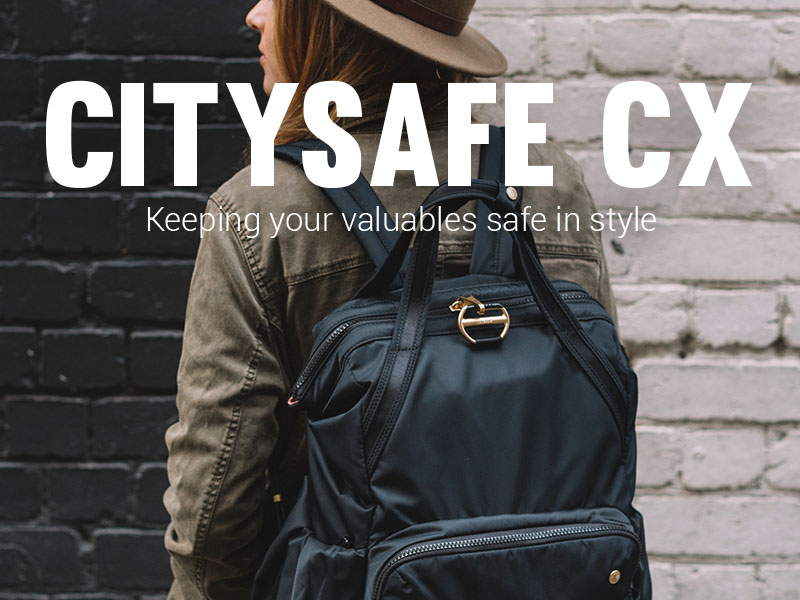 ---
The Pacsafe anti-theft women's collection comprises of anti theft purses, backpacks, totes, convertibles and handbags. This stylish series is a great option for international travel, but also intended for everyday use to protect valuables such as your cellphone or important documents. It features security purses for travel with RFID protection to prevent unintended credit card transactions, anti-theft purses with wrist straps, handbags with lockable zips, and backpacks with slash-resistant materials. The well-designed bags are sized perfectly for getting through security at airports or museums and are an ideal gift for female travelers.
Available in many colors and sizes the bags will fit your needs, no matter whether you are looking to score the best purse for travel or a spacious anti theft backpack purse. Check out the Citysafe CS25 Anti-Theft Crossbody & Hip Purse. It's the perfect small purse for daily use and can be worn on the shoulder or waist and is large enough to fit a wallet, lipstick and even a passport. A slightly larger option that will also fit larger screen smartphones is the Citysafe CS100 Anti-Theft Travel Handbag. This bag holds a lot and can be loaded up with a small water bottle combined with other daily supplies.
One of our all-time bestsellers, the Citysafe CX Anti-Theft Mini Backpack, is perfect when you want to roam over a city from day to night. This roomy and fabulous looking anti theft backpack can fit a 13" laptop, plus charger, makeup bag and some basic essentials easily in the internal compartment. The many additional extra pockets and dividers make it easy to find things.
So, browse our collections and match the best security purse or bag to your needs. They're designed by women for women, by travelers for travelers.
We'd love you to join our growing community who know a great anti-theft backpack, purse, or handbag is more than just something you take with you for the journey. It's a gateway to adventures where you enjoy every moment, knowing your valuables are safe.