Daysafe Anti-Theft Crossbody Bag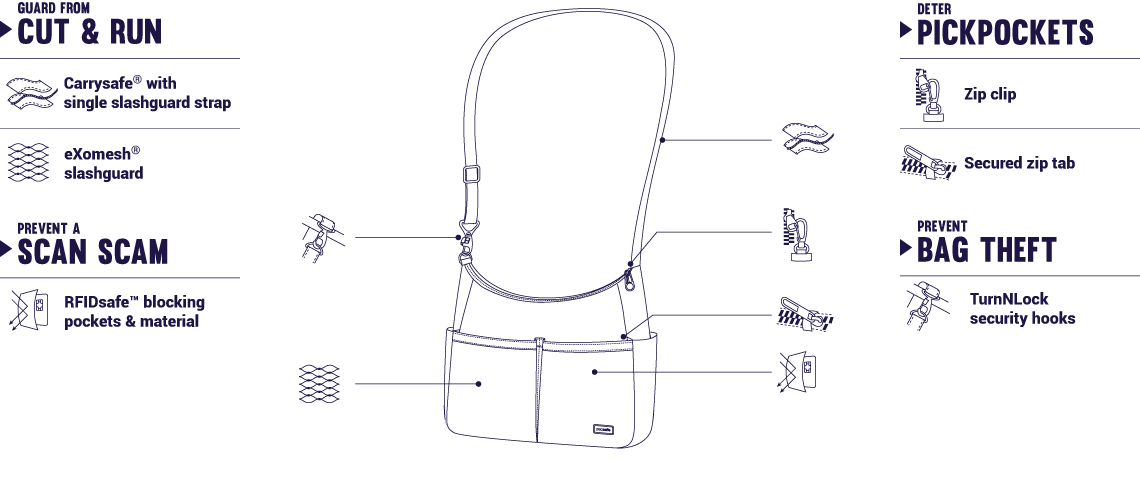 FEATURES
Smart zipper security and cut-resistant materials protect your belongings
Cut-resistant anchor strap secures around a fixed object to protect your bag
RFID blocking pocket protects your credit cards and passport against unwanted scans
Fits a 10" tablet in a padded sleeve for extra protection
Phone pocket for easy storage and access
Internal pockets to keep your gear organized
Pen loop for easy storage
Side pocket for quick access to a reusable water bottle or small umbrella
---
SPECS
MATERIALS
200D Polyester dobby (main material) 75D Polyester herringbone dobby(lining)
WEIGHT
11 oz / 0.32 kg
DIMENSIONS
(H x W x D):9.5 x 13.0 x 3.9 in / 24 x 33 x 10 cm
VOLUME
10.00 L / 610 in3
STRAP LENGTH
Drop Height (Max - Min) 75-44 cm / 29.5-17.3 in
PATENTED IN
Patented in USA (8365365 & 9161596), Belgium, France, Germany, Luxemburg, Netherlands, Poland, Switzerland, UK (EP2659800), China (ZL 201310019724.6).
96%
of reviewers would recommend this product to a friend
Reviewed by Gen L., from Singapore
Verified Buyer
I recommend this product
Reviewed by SUSIEQ, from United States
I recommend this product
My PacSafe is still going strong!
I have an older version of the Pacsafe Daysafe purse (no front pockets ) that I purchased in 2012 from AAA before our first trip to Italy. Happy for this purchase. As I have moved through different styles of purses over the years (who among us has not done this?), I finally pulled this purse back out of the travel box where I stash travel accessories to put it back into use for every day. Why? The crossbody aspect of this purse is a perfect fit for me. I can be hands free wherever I go and if I need to lock my purse down, I can do this wherever I am. Except for scratches on the met pacsafe metal identifier, my purse still looks pretty good for an eight year old purse that is in constant use. This purse is roomy enough for the basics, including my ever-enlarging iPhones over the years and my 7" Nook Color tablet if I use a smaller wallet at the same time. Thank you, Pacsafe for developing the technology that is long-lasting. If my purse ever does wear out, I will be back for my next pacsafe for sure.
Reviewed by DEBORAH D., from United States
Verified Buyer
I recommend this product
Trip canceled
Cross-body bag looks and feels as was described. Good size bag.
Unfortunately the trip the bag was to travel on was canceled.
Maybe next year?
Reviewed by Jeanne F., from United States
Verified Buyer
I recommend this product
Crossbody Bag
I really like the purse. It has many great features. The only weakness I see in the purse is the back pocket has no closing mechanism like a piece of velcro to hold it together. The front and top of the purse is perfect.
Reviewed by Natalie N., from United States
Verified Buyer
I recommend this product
A Really Great Quality Bag
This bag is unlike anything that you have ever owned. I love the "safe" zipper and pull for the security that it offers. Most of all, the design of the bag allows you to places lot if items ... even an Ipad, in your bag without a lot if bulk.